A fantastic, fun and informative day out for the family. Interaction with lots of animals. Hear about what we did on our morning out at Willaston Community Farm.
On Monday, we had a family trip out to Willaston Community Farm. I'd seen a post on Facebook advertising an interactive experience with animals and booked it straight away. (My idea of the best fun possible!) However, this is a farm with a difference, as all the animals were rescues.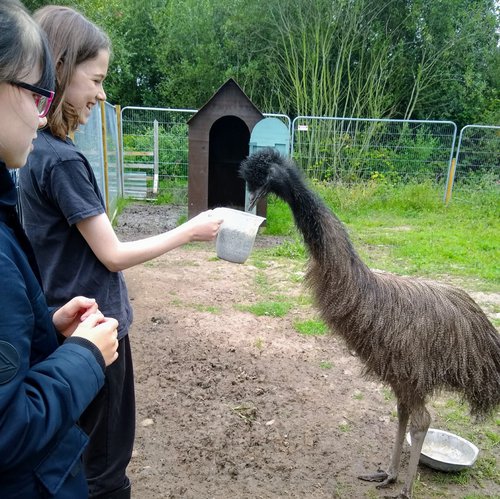 Unfortunately we missed the beginning of the experience as we got completely lost and the sat nav was telling us incorrect directions. Popped into a different farm on the way by accident... We got there in time for giant snail holding but had missed the tortoise. We then had an amazing time meeting and feeding the six month old emus. Both emus were friendly and liked being fed. One was brave and stuck around for a stroke.
There was a large rabbit which was rather cute. (I've since seen on Facebook that they now have more rabbits.)
Next was meeting and hearing about the ducks, geese, chickens and pigs. All were receptive to being called over for food. It was so funny to see. I rather liked the chickens as they were pecking at our feed and then our legs. It didn't hurt being pecked, and it was rather nice except for when they pecked at my knee and got a good beakful of my skin. I had such a giggle with this.
A highlight for the kids was taking a goat for a walk and then the Shetland pony. I wish I could have taken a goat for a walk too. :( The children were supervised at all times and told clearly what they needed to do.
They had some owl chicks that were currently being trained. None of the children wanted to have one on their hand so I had the pleasure of holding one and then putting it back. I found it fascinating to hear about the breed and the training they were receiving.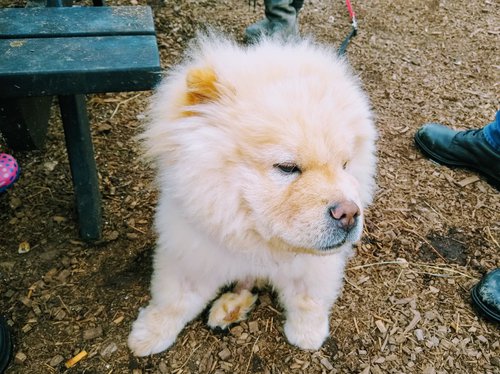 The final attraction was meeting the 'white wolves'. This turned out to be two white Alsations. Both loved all the attention and we had a game of fetch.
They had two stunning Bengal cats in a pen as they were ex-breeding cats and not used to home comforts or humans. This made me feel sad that they had previously just been treated as a commodity rather than receiving the love and affection they deserved. It was nice to watch them especially as they looked like mini wild cats playing.
Wearing wellies was good advice as obviously ducks make the area around the pond muddy. If you hold the owls, it is advisable to have a coat or long sleeved top on as they are still learning to perch and may move off the glove.
The animals are rescue animals and all seem happy in their new home. Animal welfare is a high priority - the sessions are limited so visitors can feed the animals appropriately and take part in all activities such as egg collecting. Also it means that the animals aren't over stimulated or over crowded.
Please make sure to book via their Facebook page before you go as places on the sessions are limited. Willaston Community Farm relies on donations; the session cost £5 each which was well worth it. Both of my children wanted to go back the next day! I absolutely loved it. I've got a thing for goats and emus so getting up close to pet them was a delight.