About Me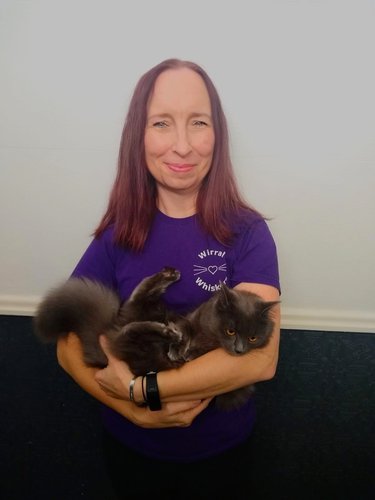 I'm Livi, the owner of Wirral Whiskers!
I am experienced with all sorts of animals. I am reliable, friendly, sensible, kind and caring.
Other animal workplace experience includes pet sitting, cat fostering for a rescue, cattery / kennels help and vets receptionist. Animal handling experience includes cats, dogs, many different kinds of small furries, ferrets, rabbits, guinea pigs, aviary birds, tropical fish, cold water fish, reptiles, snakes, chickens, ducks, cows, sheep and even invertebrates such as wax moths and stick insects.
I am DBS checked (formerly known as CRB check) for your peace of mind. Wirral Whiskers is based in Rock Ferry and covers most areas of the Wirral. (Bebington, New Ferry, Port Sunlight, Oxton, Prenton, Tranmere, Birkenhead, Bromborough, Thingwall, as well as some areas of Heswall and Pensby.)
It will only be me that will do the pet sitting (not a team) so you will have a personalised, professional service and know who is looking after your animals. However, as a back up plan in case of unforeseen accidents, my husband is also insured.
My Animal Related Qualifications
BSc Animal Behaviour and Welfare (2:1) – University College Chester
HND Welfare of Animals (Management) – University of Central Lancashire
Pet Sitting Certificate – Animal Care College
Animal Behaviour Diploma – Animal Care Education
Introduction to Veterinary Nursing - Bromley College
Pet First Aid Certificate - Last updated June 2021
Research Paper Published
'The effects of repetition, visual clues and sex on maze learning in ferrets (mustela putorious furo)' paper published in Origin, Chester University.
More About Me
I am animal crazy! At the moment I have a beautiful but nervous long haired cat, a young, partially sighted Cypriot cat, a very small fluffy cat and a Roborovski hamster. They are all a huge part of the family! We also currently have an empty enclosure - just waiting for the right time to have some more African soft furred rats.
Ideally I'd would like to have more animals and have always fancied having a few pygmy goats, alpacas, chickens, more cats and lots more rodents.
Other than the animals, I have two children and a husband. All of which love the pets and know that the cats are the boss! I have been vegan since November 2016 and my close family are all vegetarian. I enjoy reading, aerial circus, sewing and craft activities.
I try to be environmentally friendly and use biodegradable and ecological products where possible. I try to walk or cycle rather than use the car.