Welcome 2022 - Happy Mew Year!
Paws crossed that 2020 is a purrfect year! Hi and welcome to my first blog of 2022. I'm feeling excited about this year as got new things planned.
Christmas and New Year
My family and I had a lovely Christmas and new year. The time, as always went too quickly. Similar to last year, we didn't visit many people – only family on a couple of days. This was partly due to being busy, and also avoiding people with Covid.
Change of Day Job
In the middle of December I started a new job. I'm pleased to say I am now working part time hours. The last couple of weeks has been lovely as I've been able to see more of my family and not had to get up really early to fit in things before work.
It's still a bit intense as I've not been working there a month. So many new things to learn! They have all been very nice and friendly which has helped me settle in.
A major plus point is being home when the children get home from school and hear about their day. We've enjoyed watching catch up of Christmas specials including the Bake Off and the Sewing Bee.
Wirral Cat Sitting Visits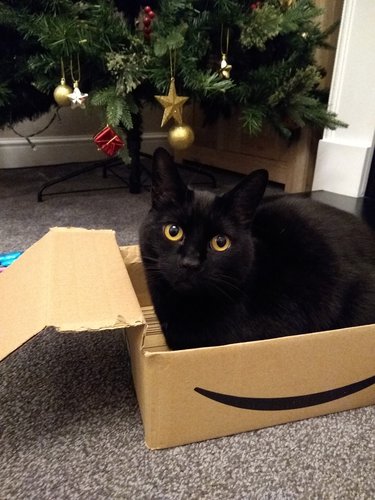 I was busy with cat visits over the festive period. This really was such a lovely time! On Christmas day I had 5 visits; I did 2 cat minding visits before my kiddies had woken up. They were pleased that we were all up early and they could see what Father Christmas had brought. You're never too old to believe in the magic of Christmas.
For all the cat visits over this period, I took cooked chicken and treats so that each puss was spoilt. This was as well as taking the usual toys and activities.
The photo to the right shows Jeff enjoying a new box I'd taken for him. He would sit in it and pounce on toys.
Due Covid, as expected, some cat sitting bookings were cancelled. This couldn't be helped and I was surprised that there weren't more cancellations. One booking was extended due to Covid.
Small Animal Boarding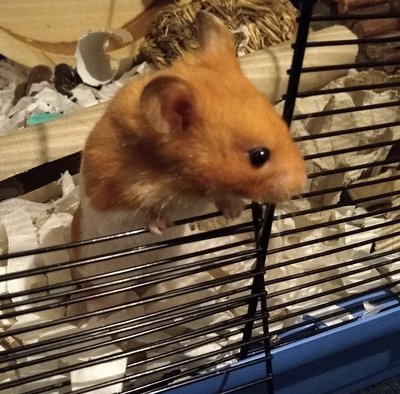 Christmas was the busiest we've been for small animal boarding at one time. All of the small animals were repeat visitors. We had Milo and Otis, two lovely tame male rats; Winnie, the tame and friendly hamster; and Erica and Lily, two very cute guinea pigs. At one point my husband forgot we had the two rats. This did make me laugh. In fairness, he thought they had gone home.
Santa Paws knew they were staying with us and brought treats and treat bars. They all enjoyed their food. Don't worry, there was lots of healthy food.
As usual, my daughter took a keen interest as soon as she heard they were coming. She was very helpful at providing cuddles and setting up their play area. This time I gave her lessons in grooming guinea pigs including trimming their nails.
Our Cats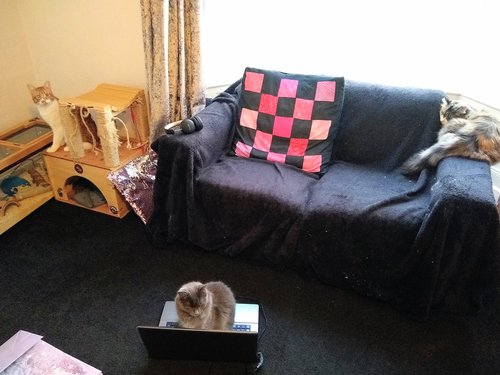 As I've mentioned previously, two of our cats don't get on. They have made some progress but I wouldn't say that they are friends yet. However we have had times when they have all been in the same room, almost happily. This photo shows the three of them in the living room over Christmas.
They can walk past each other at meal times. However, if Fermi runs, Bean will chase her. He is always looking for fun and chases where he can.
Being partially sighted, Bean can't always see her, so if she doesn't run, then when he does see her, he is just interested and sits and watches. He just wants to be friends with her… and perhaps have a play fight as he is rather boisterous with Daisy-Bear. All three are able to sit in the living room together for a short time. My main aim is to be able to leave them together unsupervised. I'd also like to be able to cuddle Fermi but she is still so timid with us, as mentioned in a previous blog. She does get on well with Daisy-Bear.
New Years Resolutions
With the new year, comes new plans and ideas. I'm hoping that having more time will enable me to do more with Wirral Whiskers and have more time for fun as well.
Business Plans
My first plan is to update my website. I want to make it more personal and to reflect the changes and updates that have been made since Wirral Whiskers started in 2019. Even though I have more time, I still want to concentrate on cats and small animals rather than dogs. I am definitely a cat person and have had so much experience with cats.
Also, I really need to update my Facebook page. All of it! Not just the text, but to sort out the photos albums and to upload photos of my testimonials.
With the lack of time last year, my website and social media weren't as planned and as coherent as I would have liked. It was difficult not knowing what was going on with Covid and how to plan for the future. Now it is normal to not know what is going to happen!
I really want to write more useful and informative blogs. There are lots of ideas and plans in the pipework. But putting words on paper/screen is the hard bit. I need to be more efficient at this but I do drag my feet. In fact this one has taken all week to write… Even this evening I got distracted by buying cat food online.
Personal Goals
As usual, I have fitness goals. Hopefully this time I will be able to keep these up. Last year was a bit up and down for fitness. Hopefully, they gyms will stay open so I can go to circus lessons. (Although after a few weeks off, it was a hard first session last night.)
In line with this, I'd also like to achieve my splits. Hmm… this one may take some time and effort. I got quite close to having my splits before Covid. But lack of circus lessons means I didn't consistently stretch and work on them.
My husband and I have started walking each day. It was more enjoyable where there were lots of Christmas lights to look at. Hopefully we can continue to keep each other motivated.
I'd like to work more with Bean, our cat who is very much like a dog. So far he has learnt to sit and high five on command. He is very food and play motivated so I know he would enjoy new tasks too.
I would like to improve my juggling skills. I've got a few patterns for three balls but I have struggled juggling with clubs. It looks so easy when other people do it on YouTube. I've had several lessons
A Weekend Off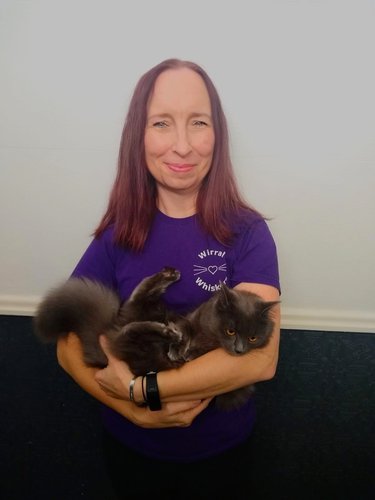 This weekend is my first complete weekend off since the middle of November so I'm hoping to make a start on my 2022 goals. I'm looking forward to spending time with my family and cats. I'm hoping that Bean will be in an affectionate mood and will curl up with me. (At the moment he is playing with a hairband next to me.
I've also got a plan to sort out the back garden this weekend. Ideally, I'd like to make it cat safe so our cats can go out. (They are all house cats due to various health issues.) The weather forecast isn't great at the moment though.
What does a pet sitter do on a day off? Wash her own litter trays! I've washed out three of our five litter trays today. I always feel it is a good job when I've completed it as the cats are always happy to have clean litter trays. They also enjoy coming round the house with me while I do them.
I hope you are all having a good start to the year. Hope this year is less 'covidy' than last.