Meowy Christmas to you! Yes it is early November but I've seen Christmas trees up in houses since before Halloween. I feel like I am a bit late getting ready for Christmas! As yet, I've not done my usual Christmas planning like normal. This blog will give a few tips for cat related gifts for Christmas.
Meowy Christmas! Sorry (not sorry) to get a cat pun in. Though to be honest, I am sorry to mention the other C word - Christmas. C words aren't welcome really at the moment...
It has been a strange year. At present, we are in the first week of the second lockdown. As this lockdown will be lasting until the 2nd December, a lot of my Christmas shopping will have to be done online.
Hopefully this blog will help give you ideas of what to purchase for your cat and your cat loving friend or relative.
Christmas Stockings for Cats
Circus Cat Crafts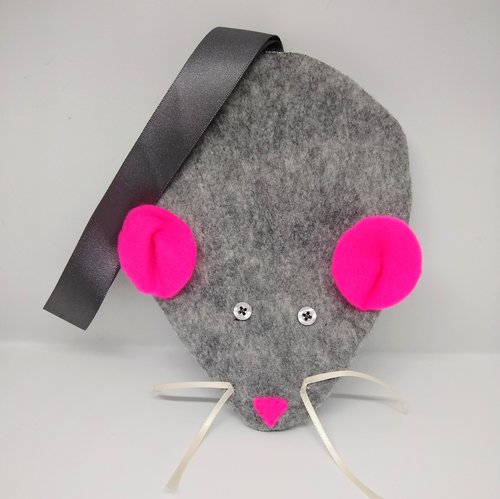 This first one is a bit of a shameless plug for my pandemic business, Circus Cat Crafts. I've made a range of stockings for cats and small animals.
The picture shows the mouse stocking for cats! It is handmade, lined with hand sewn features. The body and tail are both about 20cm long. Big enough to fit in a packet of treats and a toy or two. What cat wouldn't like a pretend dead mouse hanging on the mantle piece for them. The cost is £11 with free local delivery.
Alternatively, I have a traditional red stocking with a cat shaped head sewn on.
For small furries, I've made a carrot shaped stocking and an apple shaped stocking.
Due to being handmade, each one is made with love and slightly different. I've also made a range of cat toys - mice and kickers. There is a choice of with cat nip or without.
Mermaid Makes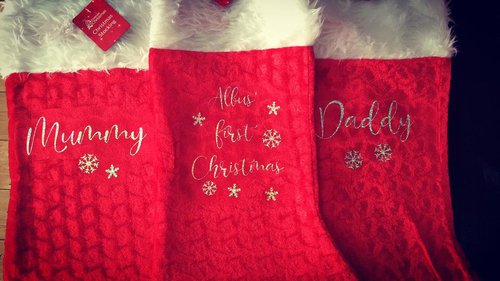 Another local lady has diversified due to the pandemic and set up a new business! Sarah created bespoke and personalised gifts and products for all occasions. (She is also provides party entertainment, party supplies and beautiful balloons as Reeseys Events.
Mermaid Makes by Sarah has a more traditional style stocking available but can personalise it with your pets name. Prices start from £5. Get one for all the family as well as all of the pets. On some items she can print photos of pets too. Check out her Facebook page for more products.
Cat Calendar for Cat Lovers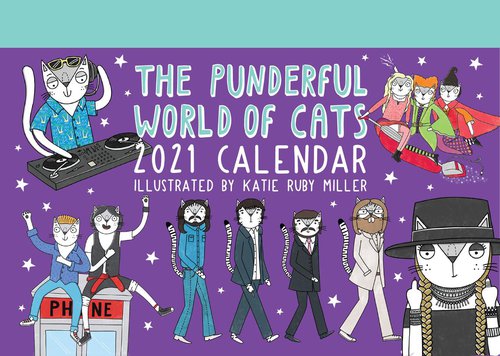 In a recent blog I was able to put some questions to Katie Ruby who created a funny cat calendar for 2021.
Each month has a gorgeous 'look a like' cat picture and a pun. For example, January is Tabby Road with four very familiar looking cats.
I've had a good look through and I love every single month. In fact, it is difficult to pick my favourite. I think, just by a whisker, my favourite is 'Purr' aka Blur in cat form. This gives an indication of the fun to come for every month of the year with this calendar.
Katie's main sales platform is her Etsy store. But if you wish, click here to go straight to the calendar.
Gift Box for Cats and Cat Lovers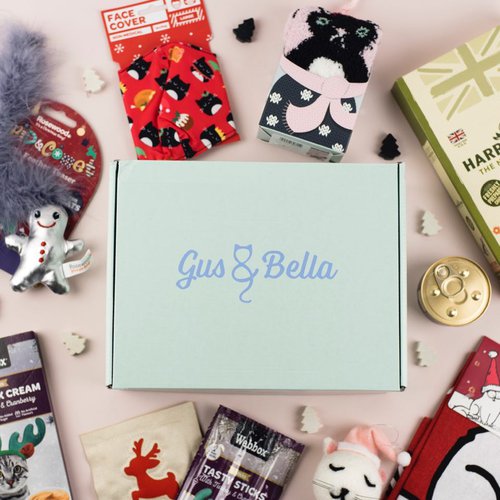 Subscription boxes are a popular item at the moment but did you know you can get them for cats? Boxes can be purchased for one month, or purchase an ongoing subscription. I think that's great that you can try a box before making a commitment. One company that has stood out for me has been Gus and Bella. They have got a great website, gorgeous logo, and they replied to my questions quickly so fab customer service.
"Gus & Bella box is a cat Subscription box with a twist - as humans get to join in! Our mission is to deliver happiness to cats and owners through our monthly themed boxes and one-off gift boxes. Each box has 8-10 items and has toys, natural treats and food for cats, plus on trend gifts for cat lovers. December's box is themed Santa Paws (sneak peek in the picture). It's available for £29.90 as a subscription, and £32.90 for a one-off box.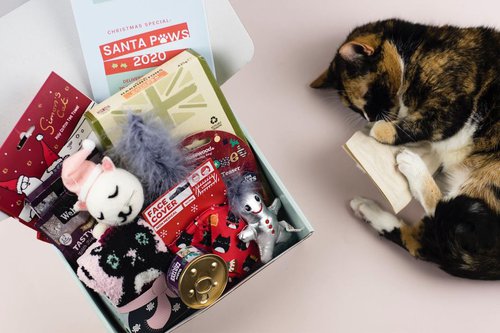 The brand was inspired by two real cats, Gus & Bella. As indoor cats their pet parents where always looking for new ways to keep Gus and Bella entertained and happy - and Gus & Bella Box was born from a desire to find a novel new way for owners to treat their cats."
At the moment, if you sign up to their newsletter, you will get sent a code for 20% off your first box. Fantastic!
I would really love one of these boxes. (Hint to my husband Ben.) A subscription would be even better! How fantastic to get a box of cat things for me and the cat each month.
Suggestions for Cats
There are so many things that cats would love for Christmas. They don't ask for much - in fact, they are delighted with most things they receive. Even if it is just for a short time.
Activity Feeders
I'm a bit of a mean cat mum. I like to make cats work for their food. (Bean my kitten is a bit miffed when I put his dried food in a slow feeder.) So activity feeders are at the top of my ideas list. So many are available from online pet retailers or even from local pet shops. I wish I knew of an independent business I could recommend. If all else fails, make your own!
New Toys
New toys always create interest for cats. I don't think you can go wrong with balls, springs, mice or catnip toys. Often shops will sell stockings for pets with a mix of toys in. These would work well for us as Bean has different preferences compared to our other cat Fermi.
Boxes
Cardboard boxes are always a popular new addition for any cat. Fortunately, Christmas is a time when they are plentiful. It is best to leave one out so the cats can play with it and then after a week replace it with a new one. New items always create interest, opportunities for scent marking and in turn happy cats.
Personal Grooming Treatments
Another alternative is to purchase a manicure/pedicure and makeover from the Kat Lady. This is also a present for the cat owner, especially if the cat is 'lively' and doesn't enjoy having nails trimmed.
Suggestions for Cat Owners
There are lots of lovely things out there for cat lovers. Obviously, a lot relies on personal preference. I love funny, quirky, tacky, non tacky... basically anything cat related but verging on the fun side.
My personal favourite is cat socks that make my feet look like they belong to a cats body. I have got quite a variety - fluffy, non fluffy, photo printed. They make me smile when I am wearing them.
Pens and stationery with cat decorations are always welcome. There are lots of iconic cats too such as Pusheen, Hello Kitty and Grumpy Cat. I love them all on stationery. My Hello Kitty calculator is one of my favourite, most used things.

Cat fridge magnets are always good. There are a variety of cute, realistic, cartoon, funny or rude ones. I had to buy my own cat bottom fridge magnets as no one else liked them and thought they were horrible. No accounting for taste.

Cat t-shirts with funny slogans on are always good but not everyone likes these either. Buying clothes for people is always difficult and may not be appreciated. I know my sense of humour isn't the same as everyone else.
Books on cat activities, training and mindset are great. Places like the Works have short comedy books like a cats Zen view on life. So if you are looking for a little cat gift, these are always nice. But not everyone reads books these days. I usually prefer Kindle books except for factual books. (I recently bought a cat training book and had to get it in paperback. It was easier to read/take notes and didn't get lost on my Kindle with the hundreds of other books on there.)
Things to make the cats happy is always nice. Yes! Buy cat toys for cat owners. They will appreciate it. If you want to go upmarket, then buy a cat grass kit or a puzzle toy. Or even hand make a toy.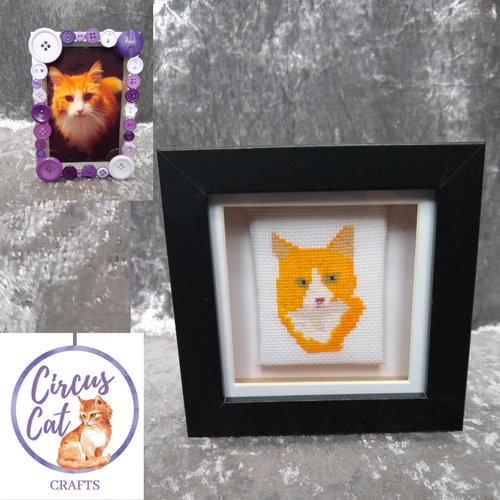 Pet portraits are always nice. There are a range of local artists who draw, paint, embroider portraits. If you don't have a picture of the pet, you can purchase a gift voucher so the pet owner can choose their favourite picture or pose of their pet. This photo shows my lovely Ginger recreated in cross stitch. I also did a cross stitch of her paw prints, which I just love.
I hope this blog has helped you. If I've missed off what you would like for a present as a cat lover, please get in touch. With the pandemic, I am doing my best to shop at small, independents rather than big conglomerates.
Don't forget to get your cat an advent calendar. Although last year Ginger didn't like the treats in her calendar. This year, it will be different in our house as Bean will eat any food item he can find. Not sure what Fermi would do though as she is more particular.
Next week, my blog is about the dangers around cats at Christmas. This is a few weeks earlier than I'd planned; but necessary as Christmas is being celebrated earlier/longer this year. Well, we all need some cheerfulness!
---
Here is the small print.
*** Please note that details and prices were correct on 09/11/2020 but may change.
*** I've not received any payment or products for mentioning these products. These views are my own and I can't accept responsibility if you do purchase these items. Other similar products are probably available.
*** Circus Cat Crafts is my second business which I set up in July due to pandemic. Yes completely shameless self promotion. You can read more in previous blog here.
---
Any questions or if you have got further thoughts, please get in touch.
If you would like to sign up for my monthly newsletter, please sign up here.