Circus Cat Crafts is my new business which I have set up to run alongside Wirral Whiskers. I recreate pet 'pawtraits' in embroidery for pet owners as special mementoes.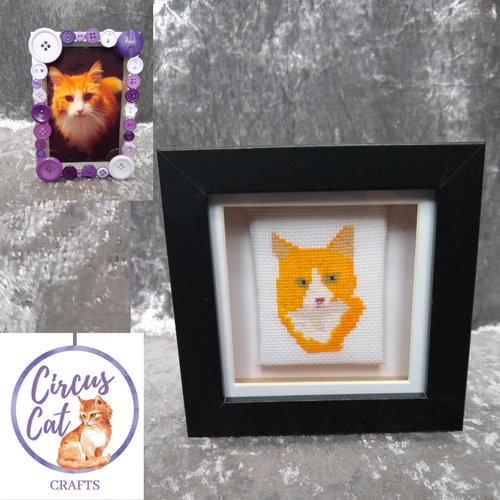 I thought I should do a blog post about Circus Cat Crafts. This is my new business which I have recently set up to create more happiness for pet owners. Previously, I'd only announced the start of my new business on my Wirral Whiskers, Facebook and Instagram pages. I thought this would be an ideal opportunity to mention it on here.
Primarily, I'll be a pet sitter (as Wirral Whiskers) and that is where my energy will be focused. I am hoping that this additional company will complement it nicely.
Don't worry, there won't be any sales pitches from me. I may post on my social media pages but I won't be contacting people directly. I hate pushy sales people so certainly wouldn't do it to other people. (I've had a lot of multi level marketing people contact me during the pandemic and no I don't want to sell make up products, supplements, aloe vera, membership schemes or utilities.)
Wirral Whiskers and the Pandemic
March 2020 saw the start of the lockdown in the UK. As the lockdown plans were announced, customers were contacting me to say that they wouldn't be going away as planned. Also, people were working from home instead of in an office as UK travel was being limited as much as possible.
As the situation was unprecedented, I'd hoped that the situation would ease and things would get back to normal fairly quickly. I was wrong - as even now, I'm staying in with the family a lot to try and keep safe.
Obviously this has had quite an detrimental effect on holiday plans and in turn, my pet sitting work. The first few weeks I spent time with my family helping them to adjust and setting up home school routines etc. At first it was a bit of a juggling act as we didn't have enough computers. I also spent time cleaning and tidying the house and catching up on bigger jobs such as sorting out the garden.
Regarding Wirral Whiskers, I spent time catching up on paperwork including creating new adverts for when travel is allowed. As I had thought it was only going to be a short term problem, I spent time looking and applying for promotional opportunities and did a couple of guest blogs, providing advice for pets in the pandemic as well as being quoted in the Guardian.
I thought I'd send 'happy post' to my clients. I'd completed a May newsletter which coincided with Wirral Whiskers first birthday. I wanted to celebrate this so instead of just putting my newsletter on my webpage, I posted them out to each client with a handwritten postcard. Thanking them for their support during my first year was important to me.
Also I've attended networking sessions and a lot of training for both business and personal development. This included learning how to deal with the changing situation and improve the business processes I had in place. Fortunately, hygiene is very important to prevent cross contamination so my processes were up to date. The processes will be more stringent now with the virus risk.
I was sad as lots of fun events had been cancelled including an animal art exhibition at Fact, a talk at Chester Zoo plus local smaller events. I'd been booked on training courses and had new client meet and greets planned. Hopefully, these things will take place in the future.
Sadly our cat Ginger was poorly and had several vet appointments before she died. This was emotionally tiring and affected us a lot. I certainly didn't expect to get another cat so soon, but I am glad we did as she has brought us so much happiness. She is still very timid so I am working with her daily to make her feel more comfortable.
Long Term Plans
Before the lockdown, one of the training days I was booked on was with Ian Spinks. This was for business planning and how to run it effectively. As Wirral Whiskers wasn't one year old at that time, I thought it would the training would be great for planning the way forward as well as learning from others who had been self employed for longer.
The training was cancelled but Ian very kindly offered to have a one to one phone call instead. I took him up on his offer and found it very helpful. After the phone call, I spent a couple of days planning how to diversify my business to survive.
Over the year, I had plans about where I wanted the business to go. It was a really good exercise writing it all down with a time schedule so I was able to plan a way forward. At first it was five pages of typed A4, so it was good to get it down to a small map. There isn't enough time in the day to do all I want.
Why Circus Cat Crafts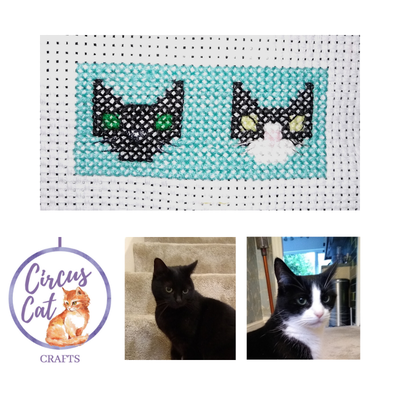 Circus Cat Crafts has been in my mind for many years. I have always loved crafts – both looking at and making. Any sort of art or craft makes me happy and as a family, we enjoyed going to art galleries, craft fairs and art events.
I am proud to say I am a crazy cat lady. Cats have always been in my life and our pet cat is always a big focus in our home. Another hobby of mine is aerial circus. I started going to lessons in Liverpool about 6 years ago and I fell in love with it and made some lovely friends. So the name of my new business, is a combination of my two hobbies.
This wasn't just a reactive jump due to the pandemic, it was an alteration of long term goals. In fact, I'd got the logo designed a couple of years ago! But work, family and life meant setting up Circus Cat Crafts hadn't been a priority.
It makes me happy to see my logo as it was based on my cat Ginger. Even though Ginger is no longer with us, it reminds me of my gorgeous, softy cuddly cat who I loved very much.
Circus Cat Crafts - Products
I want to bring happiness to people with my products. My main product theme, like my logo, will be cats and circus! I found it is really hard to purchase any 'grown up style' circus related items so hope to fill this gap. To start off with, I have a range of handcrafted lino print aerial circus greetings cards.
Obviously cats feature highly on my page and this will be no different here. My featured selection is producing bespoke, creations of pets. These are so lovely to have for when your pet isn't in the room or giving you a cuddle. I can produce a greatly detailed portrait, a less complicated portrait or produce a simple cat face with a great likeness.
I've also just completed a bespoke dog portrait which I will put on my site once the owner has received it. It was quite a change to do a dog.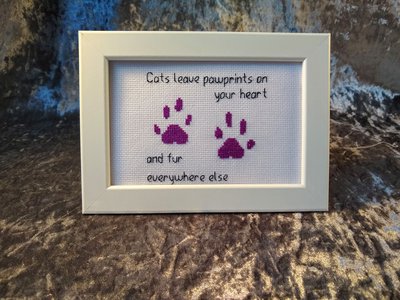 If you send me your pet's paw print, I can create them in cross stitch too. Either just on their own or with your own choice of words. Custom requests welcomed. These are lovely, lasting memories of your pet that you can treasure for ever.
These make lovely gifts for yourself or as a gift for another pet owner. Gift vouchers are available too if you want to buy them as a gift for someone. This way the gift recipient can choose their pet in their favourite position or place.
I have a selection of cat lino print cards; a variety including funny, cute and cat faces. I have also created some cat cross stitch cards. This range will be increased as time allows.
I've also recently made a cross stitch Father's day card with a dog on. So I'm sure other animals will be popping up! Please feel free to suggest something that you would like. Last night I had a request for a dog card with a cute little cream and tan pup.
Circus Cat Crafts Website
Primarily, I hope my main platform to be my website – circuscatcrafts.com My lovely husband is working on this for me. He hasn't done an e-commerce website before so it is taking a while looking at the regulations and the safest way of doing it.
Until the website is up and running, I am using my Facebook shop as a sales platform. I only launched this on the 2nd June so it is still very new. It has been quite a learning experience as hadn't done anything like this before. Alternatively, if you are an Instagram fan, my page is Circus Cat Crafts.
Hopefully the website will be up and running soon! Also, I hope to attend craft fairs when they take place again. In the meantime, I have been taking part in online fairs.
Current Plans
I am hoping that the world can start moving again soon. At the time of writing, there was a two week quarantine in place for when returning to the UK. Also, we are waiting for the next review of the corona virus r rate after schools go back. Although, saying that, the school my little one closed goes to was only open a week before it decided to close due to the high r rate.
I really miss the pets that I looked after and have been grateful for the owners sending me pictures. Even though I haven't seen them in a while, they are often in my thoughts.
Wirral Whiskers is my main focus so I'm planning on advertising and doing another leaflet drop as soon as people are safe to travel.
Circus Cat Crafts products will be expanding as time and creativity allows. I've been working on time lapse videos and creating content for social media.
From my planning stage at the beginning, I have got some ideas for animal behaviour factual books. So even though I haven't got any traditional work, I'm busy with the back end of work!
Family is very important to me so I have enjoyed daily walks with them. We've been staying inside a lot as want to stay safe and well so that when we go to a very sad funeral this week, we won't make anyone else ill.
If you have any questions, please feel free to contact me.
Side Note
I've had a problem typing lino – lion comes out of my fingers with more ease. Even subconsciously, my typing has an affinity for cats. If you notice I've made this error in any text, please let me know.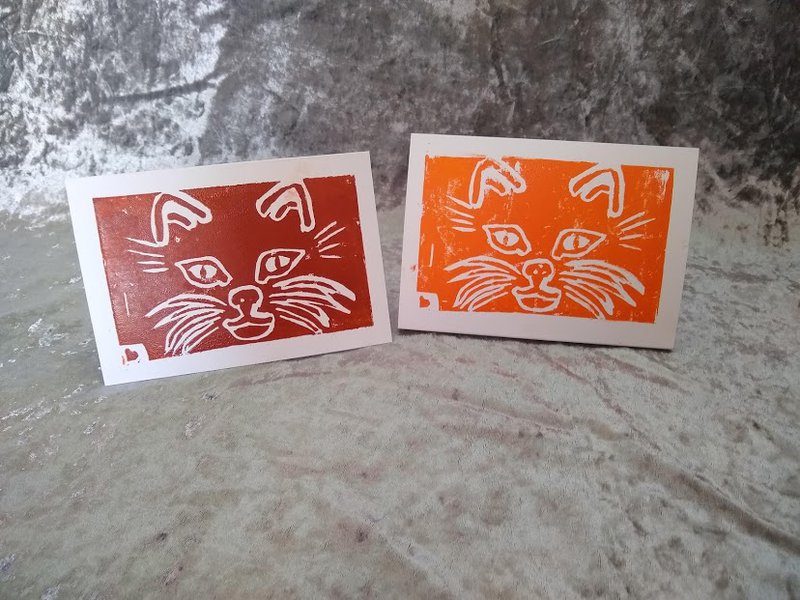 ---
If you would like to sign up for my newsletter, please sign up here.
Newsletters are usually sent every other month. No junk mail or spam sent!