Veterinary Guidlines at the Moment
I thought it may be useful to write about the veterinary guidelines at the moment. If your pet is ill, please ring your vets straight away. This blog is more about the general care to keep you safe and well.
Hello there, I hope you are all well and safe at this time. It has been a strange few weeks with guidance changing regularly. Here are a few notes of how the restrictions are for pets at the moment.
Pets in General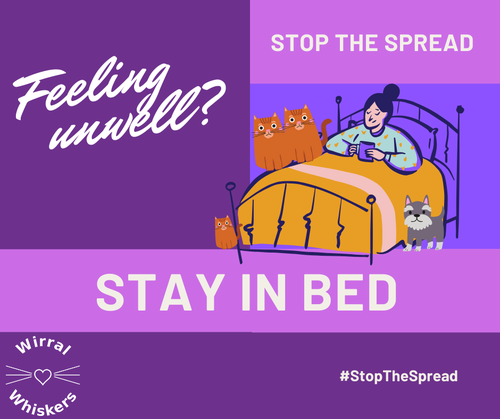 With the current restrictions, pets are allowed to go out for exercise but should not meet other people.
You can take pets out for other people such as those socially isolating or for keyworkers. There are extra precautions you should put in place for this. Please see my previous blog for these guidelines. At the bottom of the article, there was a a big picture with guidelines from the Pet Industry Federation.
If you have signs of Covid-19, or in the vulnerable category, keep your pet in. Pets don't catch it (only one or two cases found) but they can carry the virus on their fur. Due to this, don't cuddle other people's pets. This is very difficult for me as have a few pets that are used to attention from me.
Vaccinations
It is that time of year which is Ginger's vaccinations. She has got a bit of a reprieve as the vets aren't doing routine vaccinations at the moment. The British Veterinary Association (BVA) state that due to COVID-19 and social distancing, routine vaccinations can be delayed unless other factors involved i.e. new puppy vaccinations.
The latest news from my vets is that they will start routine vaccinations again from 14th April. This is in line with guidance from the British Veterinary Association and the Royal College of Veterinary Surgeons.
However, after three weeks of lock down, I imagine there are lots of pets that need to catch up with their vaccinations! Also the vets are still operating with smaller staff team so appointments will limited.
Neutering
As with vaccinations, the current advice is to delay neutering unless for other medical reasons. Unfortunately I have read this has caused distress for people who have kittens as they are coming into season and howling all the time. The cats should be kept in until neutered to prevent unwanted kittens.
Ill Pets
If your pet is ill, ring the vets for advice. They will be able to do a telephone consultation if required. Some are able to do video consultations. If required, medication can be prescribed for collection. Pet owners can pay over the phone with a card or contactless in the surgery.
There are strict guidelines in place for taking animals to vets and only one person should take the pet. Do not take your pet if you are showing signs of COVID-19.
As with any trip, only go out if necessary, ensure you take precautions not to go too close to other people, wash your hands when you come back in. Also wash the carrier.
New Pets
I know a lot of people are thinking about getting new pets at this time. If you do, please think about how you will be able to look after it when life goes back to normal. A lot of rescues are closed and pet shops are not selling live animals due to the self isolation rules.
My Cat Ginger during Isolation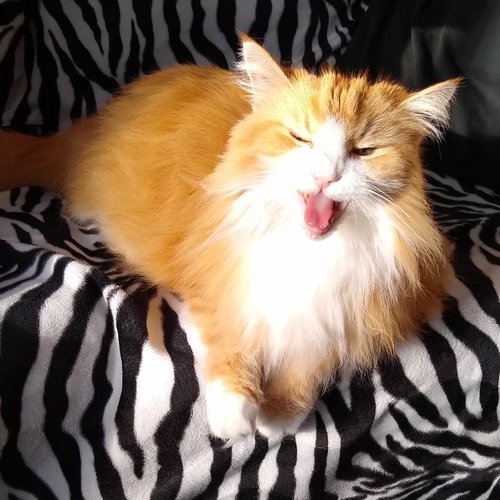 At the moment my cat is fine. She is self sufficient and will sort herself out. If she has had enough, she will take herself away or get in her box. I am fortunate that my children are at an age where they leave her alone and don't pester her.
Ginger has tended to stay in the living room where there are usually people. She moves around to get the most of the lovely sun coming in. She will sit on the windowsill until she has cooked herself enough.
She will miss us when things get back to normal. The main reason being that we see her trying to work out how to get on the windowsill, so my daughter takes pity on her and lifts her up. Ginger struggles to gage where to jump if the net curtains are in a different place.
Another strange thing is that Ginger has altered her feeding times and eating less. I think this is due to the time of year and it getting warmer. She has altered where she sleeps at night – she goes upstairs with the kiddies at bedtime but she has started staying up there for a while after lights out.
The pets have made such a difference to being at home. They have always been a big part of the family. Now they are our main source of entertainment. We love watching them and seeing what they are up to.