Poopurr Cat Litter Review
This is a new cat litter my cats have been trying out. Bean was excited from the moment arrived and kept getting in the way while I was trying to take a photo of the bag.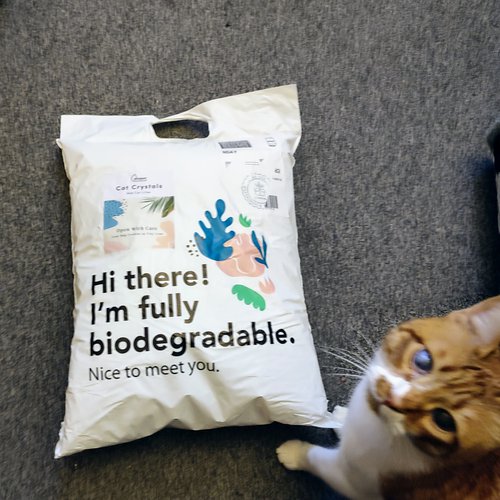 Litter is a big issue in our house, especially having three cats. I find myself handling it several times a day as cats prefer clean litter trays.
Sometime ago, I was sent an email asking if I wanted to try a new cat litter. With a 'punny' name like Poopurr, how could I refuse? I was so excited – a new cat litter to try.
Poopurr is a silica, non clumping litter. It can be purchased alone as a refill or with a cardboard box litter tray. A optional extra of a cardboard lid for the tray can be purchased too. The website states that one refill can last one cat for a month. As the owner doesn't need to remove clumps, there is less waste, so it lasts for longer.
Poopurr's ethos is to reduce waste and contribute to sustainability via using paper products from maintained forests.
The Poopurr Experience
Poopurr arrived in a strong plastic bag with an address label on. I thought it was great not to have excess delivery materials. When the outer bag was opened carefully, the litter was contained in a tray liner. There was also a cat treat inside and a treat for the human. (This treat was not vegetarian so my child gave it to a friend.) Bean helped himself to the cat treat as he had sniffed it out very quickly.
There was also a leaflet with a guide to use the litter to prolong its use. This was helpful as I usually use clumping litter. Ideally, the litter should have a chance to dry out so should be stirred.
The litter itself was rather larger than what I usually use. It was small pebble size rather than little crumbs. It didn't have a smell which is a bonus. The litters with a flavour tickle my nose.
Please note, if you change cat litter, you should introduce it gradually. Some cats don't like change and can take a while to adjust.
Our Cat Litter Situation
It is recommended that you have one more litter tray than cats. With having three cats, it is thought to be best to have four trays. In reality, I found it best to have five trays. I think it is better for the cats to have options rather than having an accident or choosing a new corner on their own. Three of the trays are used heavily but the other two aren't used as much.
Usually I buy clumping cat litter such as Cats Best, Greenwoods Plant Fibre or Lidl's own. This means I can remove each wee.
I chose just the refill and not the litter tray. One of our cats is very large and it does sound like a high pressure hose on the tray when she has a wee. I didn't think the cardboard would survive. I have massive litter trays with lids and wouldn't want to change from this.
I don't use litter tray liners as they don't seem necessary. The litter tray can be washed and I find that some cats just scratch the plastic and make holes anyway so it seems a waste.
Poopurr in Practice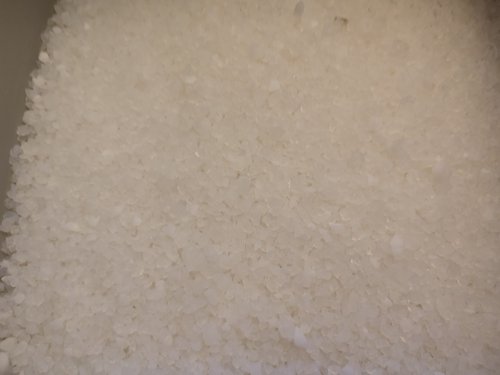 With trying Poopurr, I chose to use a mid-traffic litter tray. In fact, I chose the one in the living room which was behind the sofa so I could see how they got on with it. It was funny the first time I heard them go in to use it, as they walked in and stopped as it was different. The cats got used to it very quickly.
At first it looked like clean snow, then as it got used, it looked yellow. It was so weird only removing solid waste and not wee. However, this mean less tray checking and less waste. I found, not having to remove the wee meant I made less mess. The smell wasn't bad at all. I was very surprised with the effective odour control.
Another good thing was that as the litter was larger lumps, it didn't come out of the litter tray as far. It certainly didn't stick to the cats feet and travel around the house. This was a massive plus point.
Having 2 really big cats and one half size cat, this litter may not have the chance to dry out in the most used trays but the cats seem fine with different litter in the various trays.
The litter probably could have been left the tray in for longer but I felt I needed to wash the tray as would usually have done it a lot earlier. With Poopurr, the litter tray was easier to clean. Even the wet/substrate bit brushed off easily. In the past I have found non clumping litter goes to a mush that welds on really well to the tray so I was pleasantly surprised. I found it easier to wash the litter tray, especially in comparison to clumping litter.
Would I buy this?
Yes I would buy this, mainly for the magic odour control. This is worth getting excited about. Since trying the Poopurr litter, I tried another well known brand of non clumping litter out of interest, and phewweee, I could tell that Poopurr was preferable for the human nose.
Also I would purchase this for the ease of not having to remove the wee clumps in the living room. This meant less mess and less vacuuming required. This also meant less waste going into the bin and less washing out of litter trays. However, I need to get over my need to wash and clean the tray so often. Also, it wouldn't be suitable for all of the trays – especially the one kitchen which gets the most traffic.
Fancy trying it yourself? For 10% off use the code (Wirral10) on their website https://www.poopurr.co.uk/
What's your preferred cat litter? If you have any recommendations, please let me know by clicking here: Contact Us