Pet Sitter Code of Ethics
Does your pet sitter have a code of ethics? I do - read more about about my principles here.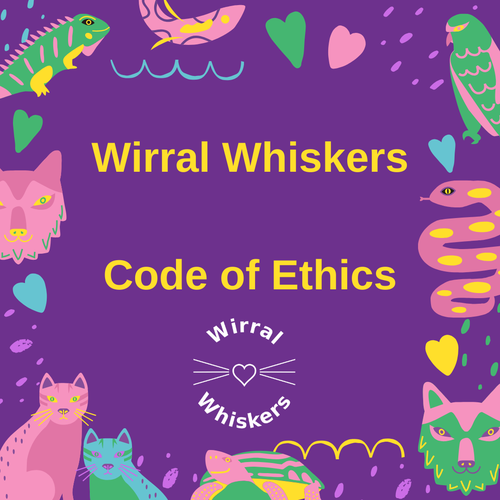 Being a pet sitter is a job of responsibility. I am looking after loved ones who aren't able to talk to their owners and express how they feel. Also, it is a big thing giving someone else a key to your home, especially if you haven't met them before. Hopefully, my testimonials and reviews help support this blog.
This blog is to put your mind at ease. Yes, I am a pet sitter with my own code of ethics. It may seem like a strange concept but in my previous career working in accounts, there was a strict code behaviour code set out by the Association of Accounting Technicians (AAT).
I have been told I have a strong sense of right and wrong. I am pleased to say that so far, my children are the same. They make me get a parking ticket even if I am just going to dash in and out of a shop. I hope these beliefs stay with them as they grow up.
AAT Fundamental Principles
The AAT stated that all members must follow and uphold the following fundamental principles:
Integrity
You must be straightforward and honest in all professional and business relationships.

Objectivity
You must not compromise professional or business judgement because of bias, conflict of interest or the undue influence of others.

Professional competence and due care
You must maintain professional knowledge and skill (in practice, legislation and techniques) to ensure that a client or employer receives competent professional service.

Confidentiality
You must not disclose confidential professional or business information or use it to your personal advantage, unless you have explicit permission to disclose it, or a legal or professional right or duty to disclose it.

Professional behaviour 
You must comply with relevant laws and regulations, and avoid any action that may bring disrepute to the profession.
Livi's Code of Ethics for Wirral Whiskers
Integrity
I am straight forward and honest. My priority is your pet. I am also concerned with keeping the pet owner happy by the way of communication and sending photos.

Objectivity
The pet and its well being will always come first. My beliefs on animal welfare and well being can be found in a previous article here. Being a pet owner myself, I wouldn't want my pet to suffer or have stressful unnecessary trips to the vet.

Professional competence and due care
I take pride in providing a reliable, knowledgable and qualified service and will only accept work that I am am capable of doing. The outline of the work will be discussed initially via telephone or message and then in more detail at the free meet and greet. If I am unsure, I will bring it to your attention.

Confidentiality
All personal data is retained within the GDPR regulations. Basically, all information is kept private. When I take photos, I do my best to take the pet and not surroundings. Any pet photos are only posted with permission without identifying data such as address or owners name. (Pets name may be used.)

Professional behaviour 
I will do my utmost to care for your pet in the best way possible to your specification. I will treat your house with respect - taking shoes off when I go in, only going into necessary rooms and only touching what is required to do my job.
Upholding my Code of Ethics
I take pride in providing a professional, confidential service. It is important for me to get things right for your pet so I take down as much information that I can at the initial meeting. Owners are welcome to contact me at anytime with extra instructions or if they have any questions.
As well as your pet, I will be respectful of your home. I really only go in the areas where necessary and bring everything I need so don't need to look. I also bring my own dish cloths, tea towels, bin bags etc. On the odd occasion I have been known to take my hoover to clear up after a moulting pet. I want the pet owners to come back to their house in a nice state with happy pets.
If you would like to know more, or think there is something I should include with this, please let me know.

Best wishes, Livi
Any questions or if you have got further tips, please get in touch.
If you would like to sign up for my monthly newsletter, please sign up here.