International Day of Happiness
The International Day of Happiness is on the 20th March every year. Although each year has a slightly different theme. The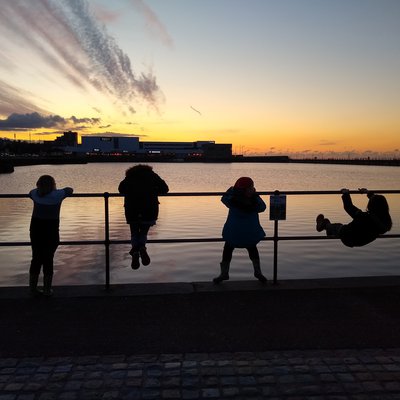 This year, the International Day of Happiness is to celebrate happiness working together rather than concentrating on what divides us.
Click on the link above to find out more about this day and the reasons behind it. They also have some great calendars to help bring happiness into your life. This is rather a nice day to celebrate as it focuses on the nice things in the world for a change.
The Action for Happiness pledge is to 'I will try to create more happiness in the world around me'. This fits in with my ethos as wanting to be happy is very important to me. It was one of the reasons I became self employed and set up Wirral Whiskers. Each day I try to focus on the positivity in my life and what I am truly grateful for.
I've used the photo above for this blog as it reminds me of a lovely family day out with friends at the beach. I find the beach really relaxing and it still is a real treat to visit. On this occasion, I'd only taken the kiddies out for a couple of hours but we ended up staying all day and saw a beautiful sunset.
Happiness at Home
As mentioned above, being self employed means that I am around for the children. My little one is in her last year at primary school and I know she won't want to spend time with me soon. At the moment I appreciate the time with her while I walk her to school. I'm sure it won't be long before she wants to go on her own. I am grateful for being able to collect and drop her off. The time with her is so precious. I walk a slightly longer way home to see more wildlife and cats.
My eldest is 13 so I am happy to be around if he needs help with his homework and just be there to chat after school. Although I think he would prefer it if he was left alone - teenagers!
Our pets are obviously a large part of our lives. Ginger our cat is very important. She is the first one we all go looking for in the morning. (She wakes my husband up early for food and then disappears.) To be honest, my husband would rather have sleep than feed the cat but Ginger has got him trained now.
Happiness at Work
I just love my work. I am always thrilled to have pets to visit. Today I am looking forward to the pets I am going to see tomorrow. Recently I had a puppy visit and when I got home I told my husband 'when I got there I had a big smile on my face, and when I left, my heart was smiling'.
Things that make me happy in my job:
The animals
Falling in love with every single animal I have cared for
Helping owners feel happy that their pets are in safe hands and looked after
When an animal is pleased to see me
When a pet is less timid compared to a previous visit
Pets playing and running around
Pets learning to play with new toys
Pets grabbing my shoelace as I put my shoes on to go
I arrive and see a cat in the bedroom window, and then when I open the front door it is on the mat waiting for me
Purring and headbutts from a cat
Headbutts from rabbits
Guinea pig 'chuckles'
Excited jumping from a puppy
Meow/woofs as though the pet is talking to me
Reptiles eating from my hand
Dogs listening to commands (even if it is just for treats)
Dogs having a good sniff around
Having work in a job I've always dreamt of doing
Obviously things aren't always 100% happiness all of the time but it would be nice if it was. PVC door locks often cause me problems!