LEJOG - My Covid Challenge
In July, I thought doing the Lands End to John O'Groats walk would be a fantastic idea. What a fun challenge that would keep me moving..... hmm.... It was all going so well until the kitten knocked me over. Not being able to continue at my super speedy pace did put a damper on this.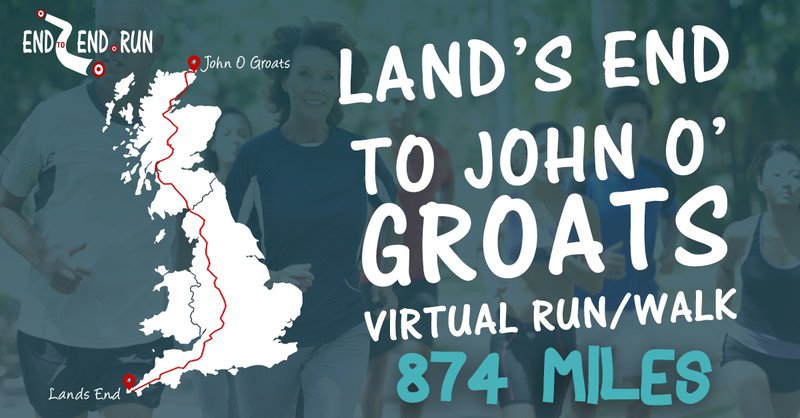 Lands End to John O'Groats
Land End to John O'Groats, otherwise known as LEJOG is a 874 mile journey from end to end of the UK. I've always fancied doing this challenge for real but it seems like a big challenge to take on in one go. Too much to contemplate the logistics, let alone the time required. Plus if I was doing it in one go, I may have to do lots of training for it. I certainly wouldn't want to do LEJOG for real as walking in all weathers carrying heavy bags isn't fun.
The virtual challenge kept popping upon Facebook and in the end, I took the leap and joined up. Being virtual, you can do this at your own pace. I had up to a year to complete the 874 miles.
Read my earlier blog, which I wrote with much excitement back in July.
How it Worked
Each of the exercise activities had to be uploaded to the website, along with proof. I used my ancient Garmin Vivosmart watch to measure the distance and I upload a screen shot of the mileage. Only my specific walks counted and not daily steps or other activities.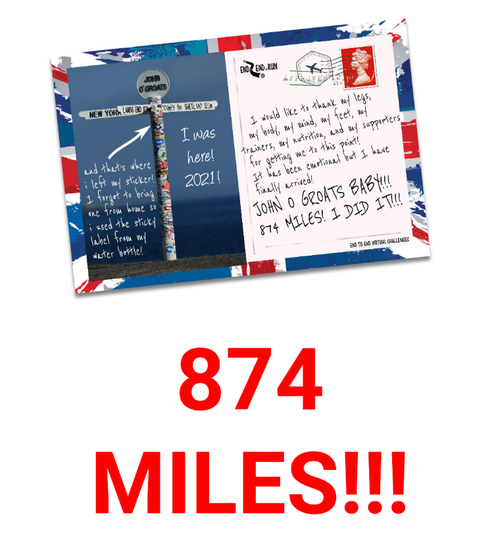 There was a great, supportive Facebook group. This meant it felt like I was a part of a community, even though I was doing it on my own. There was always help if you had problems with the website to advice on getting faster times, suitable trainers, and funny Google street view photos where people had ended up.
When the miles where logged on the website, you could search and see where you were on the map of the UK. It was great to see what the local area and attractions. It was great to see the other participants on the map as well. I found I wanted to walk more to move up the positions. Great motivation. Each Sunday I logged my mileage on the website and on my spreadsheet. Seeing how far I'd walked motivated me. I also had a printed map of the UK on my front door and each Sunday I marked where I had reached.
The entrance fee was about £30 but that included a digital certificate, medal and t-shirt when the end was reached. Also, half way through, the company donated a meal to a hungry child in the UK.
After 50 miles, and then on each 100 miles there were postcards sent by email. These had facts and photos about the place we had reached.
I've read several books about people doing this challenge for real. Even starting off without anything (including clothes) and working/bartering to get to John O'Groat's. I've also read a lot of books about ultra marathon runners and different challenges. See! This is my problem – I'd rather read a book than do any exercise.
The virtual challenge appealed to me as I could do it at my own pace and when it was suitable for me. I could adapt my walks depending on the time I had or what else I had to do that day.
Fundraising
In addition, I wanted to raise money for Jackson's Animal Welfare (formerly Wirral Animal Sanctuary) as they help local animals and wildlife. Thank you to those who donated as this really motivated me to keep on going to the end.
This challenge was chosen as I wanted to keep healthy. It gave a purpose to daily walks during Covid. It got me out of the house, even when I wasn't feeling inclined to walk. It made me have a break from the computer and the house.
How the Challenge went for me
I started this Challenge in July 2020, and finished in April 2021. It took longer than I'd hoped but I got there in the end.
In November, my kitten knocked me over on the stairs. As I landed, my foot rolled on a toy he'd left. I really thought I'd broken my foot but a trip to the walk in centre and an x-ray found it was just bruised. It really hurt to walk and at the end of each day I felt very tired. It was two months before I could walk any distance. (The kitten is partially sighted and runs round at top speed. This is a regular occurrence!)
This took me 281 days so I didn't break any land speed records. In November I started a day job so this severely knocked down my miles per week. Doing this challenge meant I made the effort to go for a walk when I got in from work. On many days, I walked between 5 and 8 miles. The higher mileage was when I had a daily walk as well as walking to a clients house.
Did you know, dog walking doesn't get you many miles? Lots of stopping to sniff and play meant an hours walk would only get a couple of miles in.
Counting Cats
I decided to make things more fun, I'd count the cats that I saw along the way. (My cats or the cats I was visiting weren't included in the count.) As well as logging the miles, I would also log how many cats that came for a cuddle as well as how many I could see. Over the challenge I cuddled 105 cats and saw 281 more. A total of 386 cats on my walk.
With lock downs, I didn't feel I could cuddle cats as we weren't allowed to hug humans. So my cat cuddle number could have been higher.
I have got a few regular cats that I saw on my walks and they would come running when I said hello.
Obviously the area, time of day and weather had a direct affect on how many cats I saw. I was pleased to see a few foxes and other wildlife as well.
As we were trying to stay local, the first bit of the walk was usually the same and spotting a cat was definitely the highlight.
What next?? Need a challenge.
I need to have another challenge with an end goal. As we still can't go to gyms or exercise sessions in the same way, I need motivation to exercise. Not sure what yet. There is a Route 66 virtual challenge but that is over 2000 miles. Doesn't really appeal – have heard that the scenery is boring along the way.
Hopefully gym sessions will be back to normal soon as there is nothing better than having a chat and not realising I'm exercising. At least I've had several furry friends to keep me company at home. Soon it will be back to the memes...
... I can't go out as the cat needs me.