Land's End to John O'Groats Walk
Have you ever fancied walking from Lands End to John O'Groats? Did you know, it is 874 miles from end to end? I didn't know this until recently...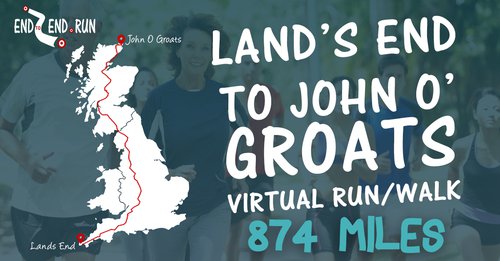 My challenge is to walk from Land's End to John O'Groats (LEJOG) virtually. I've always fancied doing this challenge in 'real life' and not just virtually. But the reality of walking in all weathers, carrying equipment and camping, doesn't appeal to me.
My map reading skills and understanding sat nav directions are not high on my list of strengths. (I need to have a printed map in my hand that I can rotate.) Part of me feels like I am cheating as I get to do the walk in little bits and sleep in comfort each night.
A few years ago I would have love to have run most of the distance. These days my knees aren't up to it. The furthest I ever ran in one go, was 11km. I always had ambitions to run a marathon or even an ultra marathon. Unfortunately, I found reading books about how people ran ultra marathons a lot more interesting than actually doing it myself. See that is the problem - I'd rather read than do exercise.
The History of Land's End to John O'Groats
This famous journey is from the most south west point to the most north east point of the UK. The total distance is 874 miles or 1,407 km.
Cyclists doing this challenge take between ten and fourteen days. The record for running is 9 days! This is almost unbelievable. On Wikipedia there are lots of facts and information about it including record times achieved by different methods.
One of my favourite records is by Richard Elloway. Richard used his free, over 60's travel pass and went from Land's End to John O'Groats and back again. This took him just over two weeks.
A while back, I read a book about two men doing this challenge. They wanted to do it with the kindness of strangers and didn't have anything with them. This meant that they started off at Land's End naked without any luggage. As you can imagine, this made for an amusing and interesting read. (Sorry I can't remember the author or the title of the book. If I do find it, I'll update this article.)
My Visit to Land's End
I visited Land's End about 20 years ago with my husband. We were staying nearby on our honeymoon. We didn't realise how close we were staying to Land's End. We popped there on a day trip as it was an opportunity we couldn't miss out on.
After hearing about this place and seeing it on television, it felt strange to actually visit it. We even got a photo with the landmark sign. (Hopefully I can find this photo as it was before digital photographs.)
It was so beautiful (and breezy). We went to all the tourist attractions there including a petting zoo and feeding the pygmy goats. Also, we had to have a veggy Cornish pasty. There was a silversmith there and we watched him make us a couple of rings which we still have.
Motivation for the Land's End Challenge
I've decided to undertake this challenge for several reasons. I want to be healthier, fitter and use the car less. I used to use public transport where I could, but I am avoiding it at the moment.
I have gained a 'pandemic podge' from less activity and movement. No longer am I nipping out twice a day for school runs, popping to the shops, taking the children to the park, going to exercise classes etc. We are going for daily walks but only doing the minimum of 10,000 steps a day. Part of the reason is to get fitter for when exercise classes open again. I regain my strength for aerial circus lessons.
Wirral Animal Sanctuary
In doing this challenge, I would like to raise funds for Wirral Animal Sanctuary, who do some fantastic work for wildlife as well as domestic animals. Obviously like everyone else, they have been detrimentally affected by the pandemic. If you would like to learn more about them, here is the link to their website- Wirral Animal Sanctuary.
If you would like to donate money towards my part in this challenge, please click this link. It is via Facebook but you don't need to have a Facebook account. Donations can be made privately via the link. All of the money goes directly to the charity and Facebook doesn't charge any fees.
How the Challenge Works
The LEJOG challenge kept popping up on Facebook. It appealed to me as I could do it bit by bit, in my own time. It costs £30 to sign up. As well as a support group, access to the interactive map, digital postcards, there is a t-shirt and medal on completion. At the checkout you have the choice of planting a tree instead of getting a t-shirt.
Every few days I upload my mileage to the website along with the evidence. I keep my daily mileage logged on a spreadsheet. My walks are measured with my Garmin watch so I send screenshots of my activities.
Only specific walks will count towards the mileage. Not the everyday steps around the house. I feel that it wouldn't be as much of a challenge if I did that. It is almost doing purposeful walks and not just incidental. I'm not allowed to count any zumba or dancing steps but treadmill steps are allowed if you wanted.
LEJOG Postcards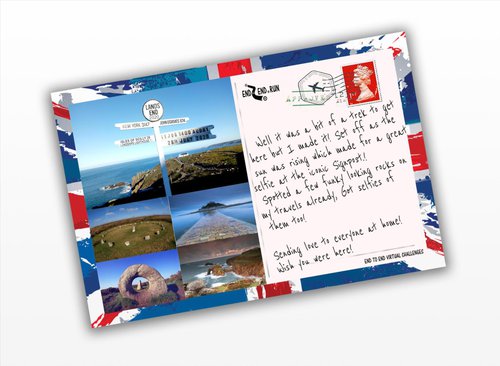 Along the way, once certain distances are logged, electronic postcards are sent. The first one is sent at 50 miles. This is such lovely encouragement. It's also great to learn more about the UK. Great photos too. It took me twelve days to achieve this.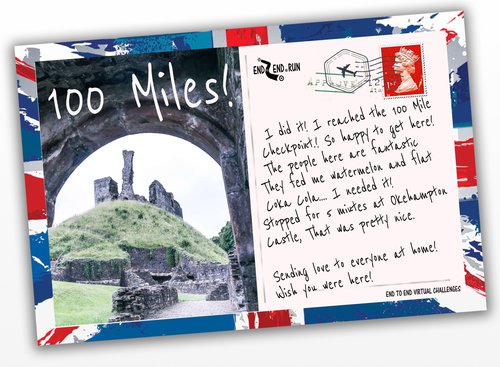 The next post card is received at 100 miles. It took me twenty four days to get this in my inbox. I've heard that I only get postcards every hundred miles. Shame as I'd love to get them every fifty miles. It is such encouragement to keep on going when they appear in my emails.

LEJOG Support Network
As well as getting the postcards, there is a fantastic supportive Facebook group. It is great to hear about how others are getting on, equipment issues, learn tips etc. My favourite is when people post funny pictures from the map of where they have ended up. Not only can you follow the trip on the map, but you can use the street view to see exactly where you would have ended up.
Last week I saw I was near a business called 'Cat's Whiskers' which amused me no end. From now on, I will be looking for animal related places along the way. Originally I was going to look at cake shops along the way in case I ever got the opportunity to do it for real.
My Progress
I started my End to End challenge on the 13th July and have a year to complete it. A person on the Facebook page did a spreadsheet and worked out, to complete it in this time, you would need to walk 3.36 miles, five days a week. This is 16.8 miles a week.
I'm not one to take a challenge easy. I'd prefer to get it completed as soon as possible. But this distance is difficult to do quickly. I am five weeks in and I've walked 161.2 miles. I'm really pleased with this. Some weeks are better than others depending on commitments and the weather. (I tend to melt in warm weather.)
At the moment I am walking on average, 32.2 miles a week. So if I carry on like this, I should finish it in 28 weeks which is the 25th January. Looking at this this way, it seems like I've got a long way to go yet.
The positive to this is that the challenge has made me more motivated to exercise more. As well as the daily walk as the family, sometimes my husband and I go out for a couple of quick miles.
As well as recording my daily mileage on the spreadsheet, I am recording how many cats I see. The cats are always a highlight of a walk. In the 35 days, I have seen 100 cats! I don't count the cats that I am visiting, or my cat at home.
Before the challenge, I was walking about 70,000 steps a week. This has increased to about 105,000 steps a week. As yet, I don't feel fitter and I still have my pandemic podge. It is still early days. Especially after a few months of staying in the house most of the time. Hopefully this will be a lifestyle change and I will carry it on afterwards.
The bonus is, I am seeing parts of the Wirral that I haven't seen before. One day I walked from Lower Heswall to Thurstaston and back one day (via the cake shop). All of the Wirral's coastline is lovely!
If you Would like to Support me
If you would like to support me - any walking companions are very welcome. Motivation is always increased with a chatter along the way.
Alternatively if you feel able to donate to the Wirral Animal Sanctuary, please click here.