Grooming a timid cat? I've always been able to groom my cat and cut her nails. FAMOUS LAST WORDS! In fact, most cats are happy to be stroked and groomed and I've only come across one before that didn't like it. Bit by bit, we have built up a relationship where I could groom her partially each day. Our new cat Fermi has a different idea...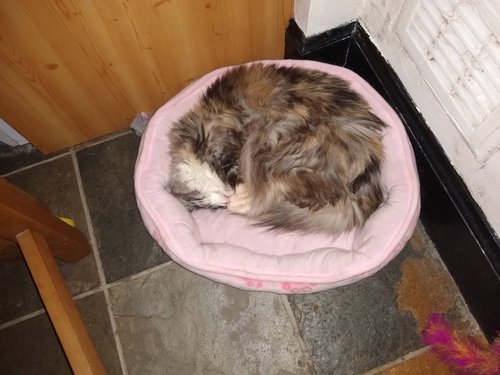 Grooming a timid cat has got to be my least favourite job. If it is other peoples' cats, it is fine. My own cat is a different matter. We have only had our cat Fermi a few months. She was very nervous when we got her so we have been working on building trust. I've written about this in a previous article.
The amount of grooming a cat needs does vary on the size and nature of the cat as well as the type of fur. Even short haired cats need attention. If you would like to read more about the fantastic benefits of grooming your cat, please read my article here.
A Brief Background of Fermi
Fermi is a long haired, Norwegian Forest cat. These should be groomed regularly. With Ginger I groomed her once a week as well as randomly. Sometimes she got bits knotted and she wasn't fond of her delicate armpits being groomed.
Since we had Fermi we haven't been able to stroke her. She is very frightened of humans and slowly we have been building up getting closer. This is mainly by leaving her alone - apart from hand feeding food several times a day. She grabs the food out of my hand and jumps back. Sometimes she doesn't jump back too fast but other times she is more nervous. If she drops the food on herself, it makes her jump.
A while back, we struggled to put a flea treatment on her neck. She was very nervous of us for a week after. This worried me, as grooming is much more hands on and takes longer. As you should let cats come to you if they are nervous, holding her for grooming was not going to be a good idea. I decided it was best to get professional help. I'd been seeing posts from 'The Kat Lady' on Instagram for a while so I knew who to call.
The Kat Lady
Katie is The Kat Lady! She lives in Liverpool and is a mobile cat groomer. Katie will travel up to forty miles to take care of your cats grooming needs including paws, claws, ears and eyes.
Her website is fabulous - click here for the link. I tend to like to research things as much as possible before contacting a person and found a lot of my questions were answered on her website. This meant I had an idea of how things work and I didn't waste her time asking silly things. My favourite part of her website, which put me at ease was "My goal is to complete the grooming to the highest possible standard while keeping the cat happy and relaxed".
Even though I hadn't met Katie before, I felt like I knew her as we had commented on each others' Instagram posts. Obviously, with us both having cat clients, we love seeing cat pictures.
First Contact with the Kat Lady
With Fermi's demeanour, I was really concerned about what to do for the best. I explained that we hadn't been able to touch Fermi and she was very nervous. Also, we had had her a couple of months and I could see a matt on her back. I had no idea how she was underneath. I did think that getting someone else in to be the bad guy, was a better idea.

I wanted to groom her but I didn't want her to make her more scared of us.
Katie replied saying she had groomed timid cats before but it depends on the day and the cat. She also asked more questions and said she would charge for travel and see how things go. After I had replied, she suggested that I contact the vet for a medicine that made her more relaxed.
The alternative was for Fermi to have an anaesthetic and the vet shave off her hair. The problem with this was that I wanted to avoid an anaesthetic if possible and only do this as a last resort.
Katie suggested items such as grooming arches that may help her groom herself. I bought one via the internet straight away. Fermi manages to squeeze through it to get the food without touching the sides. Typical!
I said I would talk to the vet and get back to her. Katie gave a guide of how much it may cost but it would depend on what was required on the day.
Vet's Telephone Call
I spoke with the vets receptionist and I was able to book a telephone consultation for the following week. When the vet rang we discussed the situation and what would be best. At this point, we couldn't be sure we could get her in a box to get her to the vets. The vet agreed to prescribe one tablet for this occasion and then take it from there in the future. We talked about things that could be done to help with her anxiety.
Later that day, I collected the medicine and contacted the Kat Lady to make an appointment. I was fortunate to be able to get an appointment quickly.
The Big Day - Fermi's MOT (Moggy Overhaul Treatment)
Katie gave me a time of when she would arrive and asked for her to be in a room without hiding places such as the kitchen or the bathroom.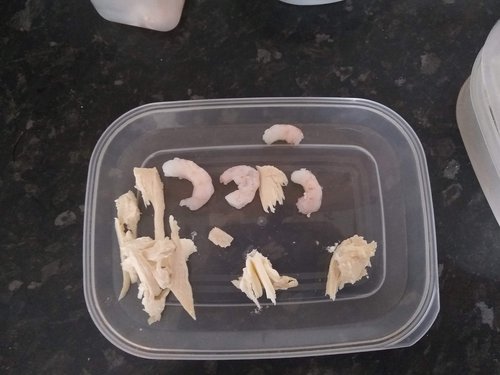 The medicine needed to be given 90 minutes before the event. So I started two hours before, in case it took a while. This photo shows the food tray I had ready for the tablet. The vet suggested cream cheese too, so I had that on standby. I slit the prawns in half but found the tablet was too big. In the end, I fed a few prawns and then gave her the pill hidden in the chicken. I couldn't believe my luck when she ate it.
With fifteen minutes until the Kat Lady was due, we decided to get her in her travel box and in the bathroom. With hindsight, I should have swapped her kitchen bed for the box as she does sometimes sleep in it. Anyway, I laid a trail of chicken into her box... She ate all of the chicken lumps apart from the last two. So I tried to put her in which she didn't like. She ran back to her bed. From here, I was able to move the box and door until she was in it. We then put her in the bathroom and shut the door. I dread to think what this would have been like without medicine.
Kat Lady's Arrival
When Katie arrived, I don't know who was more nervous, me or Fermi. We had a long chat first about the situation, what may be required, how she would work and that she would call me if she needed me. She had to see what state her fur was in, what would be quickest and less stressful. This is exactly what I wanted as I wasn't interested in how the cat looked, just that she was healthy and the problem fixed as quickly as possible.
We then went up and Katie saw Fermi while she was still in the box. We chatted so Fermi could get used to her and settle down while I was there. (Hopefully reassuringly her.) Katie set up all her equipment so it was ready and to hand. When we opened the box, Fermi ran out and went straight to the bed I'd moved into the bathroom. She usually likes her bed and I wanted her to feel safe.
I left them alone for a while and then Katie called me back in. She had already cut all her claws! Katie said her fur was matted and the quickest, easiest and best thing to do would be to give her a lion cut. (This is where her body would be shaved with her head and leg fur left and groomed.) This would mean that the fur wouldn't get tangled if different lengths growing.
I went back in a couple of times when called to see progress. I was shocked. Fermi was sat on the floor. She didn't look too happy but she was being groomed. I asked if I could stroke her as I was worried she would freak out. Katie said yes that was fine. I was overjoyed to be albe to stroke her for the first time. She did flinch.
At the end, my daughter came in as well; she was pleased to stroke her. The picture below is of her pile of fur and her. Even now, her new haircut makes me laugh. I always wondered what Ginger would have looked like without fur and now I have more of an idea!
Katie was able to put on the flea treatment which was a massive bonus for me.
After the Kat Lady had gone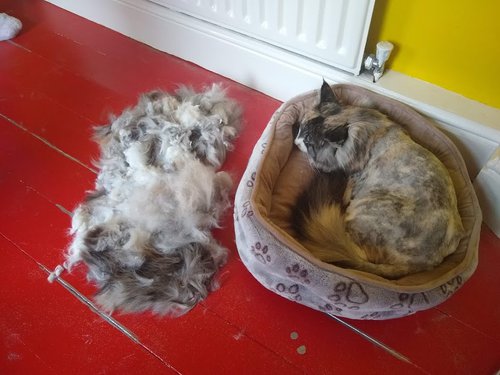 Fermi wasn't happy after the grooming. I was so relieved that it had been fixed, even if just temporarily. Afterwards, Fermi had a great mistrust of us and meowed a lot. In one way, this was good as she hadn't meowed or purred since we got her. (This made me feel so sad.)
The next day Fermi was back to her normal disposition but fearful of us. She wouldn't take food from me; not even a prawn. I don't blame her for not trusting me. Also, she was back to avoiding us and running away if we were nearby. It took about a week before she was less nervous.
After always having long hair, she did look funny shaved. (Even now it makes me giggle.) It was lovely to see all her colours clearly and to know that she was in good health.
Katie said to watch out for red patches as they are used to long fur, and washing with a rough cat tongue can make the skin sore. Fortunately, I couldn't see any evidence of this.
Future Grooming
Katie said it would be about three months for her fur to grow back. In an ideal world, Fermi will get used to being touched so I can groom her as it comes back. Wishful thinking probably! I shall work on it anyway. Even if she isn't ever a cuddly cat, I want her to feel safe and happy.
So, I most likely will be seeing the Kat Lady again...
Top Tip
If you need help or advice with your pet, I am always willing to help if I can. The pet's well being should always be at the forefront. In this case with my own cat, I knew I needed help as I didn't want to stress her out but she needed grooming.
Katie, the Kat Lady was fantastic. I highly recommend her as she put our cat at ease, worked out what was best for the cat, was very thorough and sorted the fur problem. Katie gave advice before and after as to how we could help her. I felt fully informed at all times which helped put me at ease as I was worried about stressing the cat. Happy owner and a cat with a complete cat MOT (Moggy Overhaul Treatment). Thank you so much! I am very grateful for what Katie did for Fermi.
Contact Details for the Kat Lady
Click on the links below: