We all love getting more for our money, so any bookings made for my services from Black Friday to the end of Black Monday will get a extra free 10 minutes on each visit!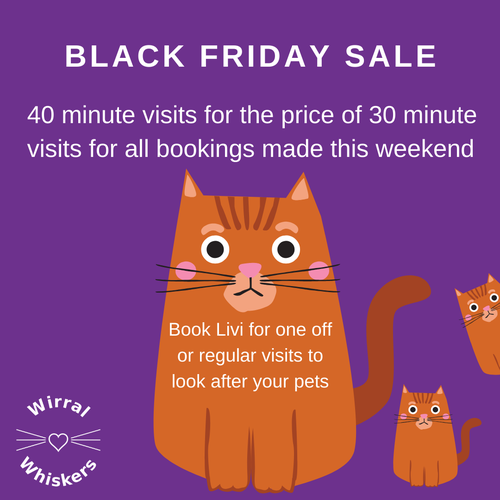 This is an Black Friday offer with a difference as you get more value for your money.
My minimum visit time to your pet is 30 minutes but I usually find it hard to tear myself away so I often spend longer with your pets. However, for all bookings made from Black Friday to Black Monday, I guarantee the minimum time I spend with your pet will be 40 minutes.
When I visit your pets, I do feeding, litter trays etc. With the rest of the time, I play and make things fun for your pets! I treat the pet as if it is my own, with lots of cuddles and chatter.
If you are feeling unsure, I come to meet you and your pets first. This is free! I think it is important for me to meet the pets and find out their requirements and routine. Also, I find out about your house such as bin day, house plants, alarms and what you want doing so it looks as though you are still there. (I'm afraid I can't guarantee survival of house plants but I promise I will do my best with them.)
If you have any questions, please ask.