The Best Cat Calendar for 2021
I found the best cat calendar for 2021! Katie Ruby does some amazing illustration along with some feline puns. Incredibly cute and humorous and a must have for any cat lover.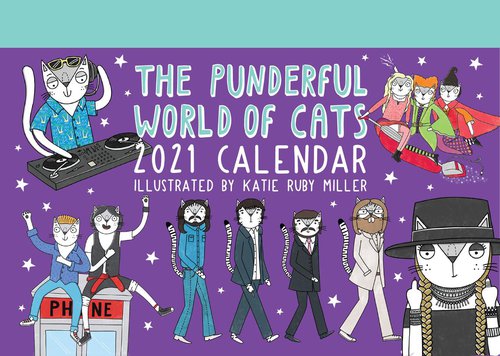 Every cat lover should own this cat calendar for 2021. Not only are they catatstic, but they are full of feline puns.
Each month has a gorgeous 'look a like' cat picture and a pun. For example, January is Tabby Road with four very familiar looking cats.
I've had a good look through and I love every single month. In fact, it is difficult to pick my favourite. I think it is a joint winner between 'Purr' and 'Cat Boy Slim'. This will give you an indication of the fun to come for every month of the year if you have this calendar.
Katie, the illustrator has been very kind to answer a few questions for this blog.
Introduction to Katie Ruby
I first saw Katie on LinkedIn. As she was a cat person, her posts kept popping up in my feed. I'd looked at her website and loved her work so kept an eye out for her stuff. I was able to download a gorgeous circus cat picture to colour in. (It is still on my wall.)
So imagine my joy when she published a sneak preview to her 2021 calendar. After everything that has happened this year, a cheerful, gorgeous and funny calendar is just what I need on my wall.
Katie has very kindly answered my questions as I wanted to know more about her and what she does.
A day as Katie Ruby, Illustrator
I start every day with my morning coffee in bed, with some cuddles from my cats. Then after a nice start to the day, I get dressed and start work by going through my emails. After that it's on to the actual work which is always very varied from super illustrative briefs to more design based projects. I tend to work until my partner gets home, or sometimes a little later depending on my work load and deadlines. My evenings are varied, from sitting outside on the tow path with other boaters, to going for a walk or even doing some personal work that is don't get time to do during my "office hours". My evening always ends with some more kitty cuddles before they both go venturing out for the night. 
How do you come up with the ideas?
I always find that ideas come to me when I'm not directly thinking about them. So I keep notes on my phone of phrases, or wordplay that I can incorporate into my designs. Inspiration can come from anything. I'm one of these people that really takes in everything around me. 
I'd love to know more about your process - do you draw by hand or is it all on a computer? What computer programs do you use?
I used to draw everything by hand, scan it in and then work on the final pieces in either Adobe Photoshop or Illustrator. I still do this for some clients; though I now mostly work on my iPad which I like to call my digital sketchbook. The iPad can run all Adobe software, but I've found that "Procreate" is just as good as Photoshop. It has some super nifty tools such as animation which I'm slowly trying to teach myself.
Which is your favourite cat pun or picture and why?
I've drawn so many cat puns over the last 5 years it's hard to pin point a favourite. I really enjoyed doing "sgt peppurrs lovely hearts cats band". I went full album cover style and used some of my existing puns to create the collaged crowd of cats behind John, Paul, Ringo and George. 
Which is your top seller for cat pun products?
My top seller is probably anything "David Meowie" that I have in my shop. Though my best selling product has always been my calendars. These sell like hot cakes and end up being delivered all over the world.
If you could have your designs on any product or linked with a person/company, who would it be?
I would love to do some work with the Cats Protection one day. If I could do some illustrations that would help some Meowvellous felines find new homes it would be so fulfilling. 
How have you found things during Covid? Have you managed to keep working? Did your cats keep you sane?
Life in coronavirus has pretty much been the same for me. I've been working from home for over four years now so there wasn't much adjustment when lockdown was put in place. I've been very lucky that most of my clients have continued to work during these times and have been giving me plenty of work to get on with. I'm always so grateful for my clients, I see them as my co-workers and they're such a lovely bunch of people. 
Where can I purchase your calendar?
My calendars can be purchased from my Etsy store. Click here to go straight to the calendar.
Katie's Website and Social Media
Click here to view Katie's website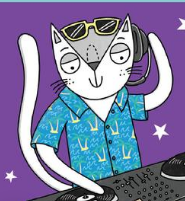 I would like to say a massive thank you to Katie for answering my questions and giving me an insight into her creative process. I adore puns - check out her website for Picatsso. It's one of my favourite.

---
Any questions or if you have got further thoughts, please get in touch.
If you would like to sign up for my monthly newsletter, please sign up here.