Wirral Whiskers is owned and run by Livi. This first blog post tells the internet world about Livi's background with animals.
So this is me! I'm Livi and it has been my life goal to set up a pet care business so I am very excited. Predominantly I will do cat and small pet sitting. I have some small pet accommodation available for small animals so that they can stay here. Alternatively, if the small animal cage is transportable, I can look after the pet at my house.
I've had various animal care experience including cat fostering, veterinary receptionist and most importantly pet sitting. Qualification wise I have a BSc in Animal Behaviour and Welfare and an HND in Welfare of Animals (Management).
As soon as left home, I had a variety of mice, rats and hamsters. At one point I had 30 mice! My most crazy adventure was house sitting and looking after 7 dogs for ten days. Animals I've had over the years include birds, fish, rats, mice, African soft furred rats, ducks, guinea pigs, rabbits,all sorts of hamsters and last but not least, cats. I've also had experience with reptiles and snakes. One day I hope to have a few pygmy goats and some alpacas.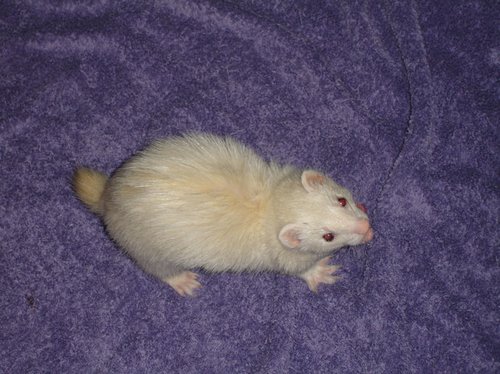 When I left university I moved to London and had a house ferret. She was adorable! She didn't live in a cage and had the free run of the flat. She was litter tray trained. However, I had to lock her out of the bedroom at night as she liked to nip my feet and armpits to get me to play. Ferrets are like kittens or puppies so she enjoyed knocking things off the bookcase and stealing things to hide in her bed. The funniest thing I found in her hiding place was a diet coke tin – empty but not opened. I couldn't work out how.
I currently have a two children, a husband, cat, rat, Roborovski hamster, Russian hamster and five soft furred African rats. I have always been known as a crazy cat lady. We used to go on walks when the children were little to see if there were any cats we could cuddle. Unfortunately there aren't many round here. (We currently have two regulars on the way back from the library.)
When our daughter was born we considered all the cat related names such as Tabitha but settled on Katalina which gets shortened to Kat, Kitty or Kitten. Her brother calls her Kitten Bear which so so cute! She however, prefers dogs though. We call her brother a happy puppy as he bounds around looking for sticks.
In my spare time I enjoy going out with the kiddies, reading, crafts, sewing and circus skills.
Wirral Whiskers is my main focus and priority. During the planning for this business I have also had a couple hours each week copy-writing for a circus website. I've have been lucky to teach aerial hoop, silks and trapeze for a few hours.