If you are booking a holiday don't forget about your pets. I can help with cat sitting and small animal boarding.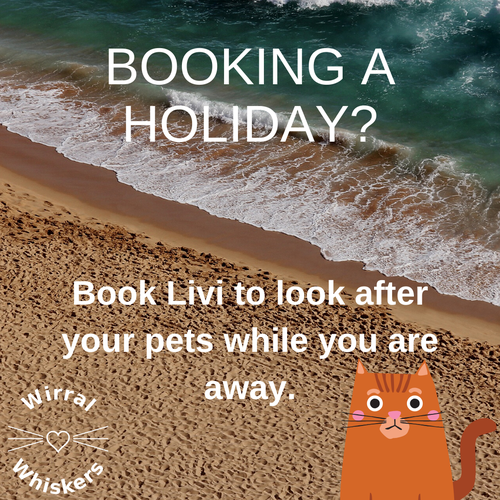 It is that time of year when people are making plans to go away. Don't forget about your pets.
Whether you want personalised pet sitting care or boarding, space for all pet care companies is limited.
I often get last minute requests for boarding dogs but I only board small animals. I have limited accommodation for rabbits, guinea pigs and rodents, both indoors and outside. I do my best to replicate your pets current environment. At present, I don't have accommodation for reptiles etc but if you can transport it, I am able to care for them.
Any dates you require can be pencilled in and confirmed nearer the date. I am flexible to changes - vague dates are fine. However, payment does confirm your booking including your pets preferred visit times. I am registered self employed and will issue an invoice for payment and then a receipt/confirmation when payment is received.
I meet with all pet owners for a free meeting so I can find out about their pets and property. This also includes signing a form to say that I can take the pet to the vet if necessary. I also ask permission to take photos of your pets and if I may use them for promotion. If you don't want me to use their photo then that is fine too!
Once this meeting has taken place and if you have given me keys, I can pop round to look after your pet when you need me to. Most bookings are made in advance but I am usually available for last minute bookings.
I have a few regular clients and before every visit I check that there haven't been any changes regarding the care of their pets and any property access. Or if a booking is made over a month in advance, I like to check nearer the time just in case! Owners have appreciated this.
All the pets I have looked after are often in my thoughts even if I haven't got a visit booked. They say pets leave paw prints on your heart and I have to agree with this.
Please look at the terms and conditions on my website. If you have any questions, please feel free to contact me.
Livi >o<