Wirral Whiskers March 2021 Update
I can't believe we are half way though March already. Even in lockdown, time flies past very quickly. It seems strange not going out to the gym, museums and art galleries. My children are happy that they can stay at home and not go on boring trips.
Hello! Since the Christmas holiday, I seem to have been very busy. My day job now takes up a lot of time. The majority of the time feels like it has been taken up cooking and cleaning. Not very exciting at all.
Children
Last Wednesday the children went back to school. In one way, it has been quieter and calmer. No daytime drum sessions! Plus the kitchen isn't messed up several times. On the other hand, my daughter isn't here for the cats. She always kept them busy.
Both kiddies were less than pleased to be back at school but I'm glad they are seeing their friends.
Pet Sitting Visits
Fluffy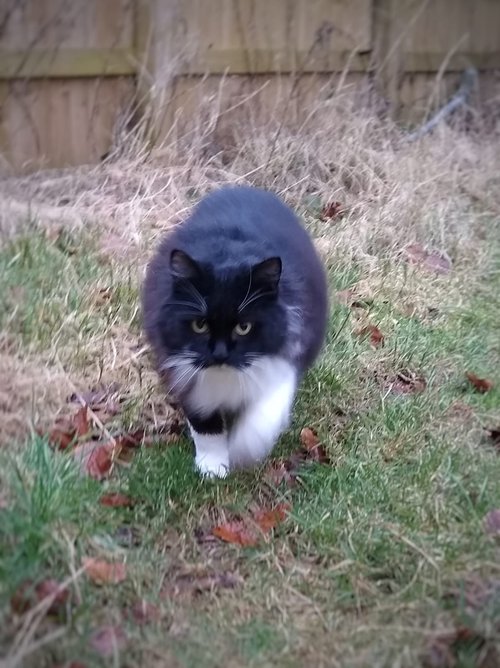 In January I had a last minute booking for Fluffy. Unfortunately his dad had to go to hospital and was there for a few weeks.
Fluffy was stunning looking. He had Maine Coon characteristics – fluffy ears and under the paws, the distinctive face shape and he was massive. When he stretched his paws, they were about 10cm span.
He was a bit lazy at times as he couldn't be bothered to get the treats out of the activity feeders. He thought some treats were worth working for, compared to others. He preferred the fish flavoured cat food but when I took some prawns as a treat, he wouldn't eat them.
Fluffy was an indoor cat but was allowed in the back garden. Sometimes he would just have a walk round with me, having a sniff. Other times he was more interested in the wildlife. Fluffy's dad was keen to care for wildlife and had ponds which I topped up. Plus each night I left food out for the hedgehogs and foxes.
My husband is on my insurance and he came with me to fix the back door as it was stiff to open. I'm very lucky that he is handy with DIY like that. Fluffy was pleased to have the extra interaction.
After doing my day job, it really was such a treat to visit Fluffy. I realised how lucky I was to do it as a job. Making Fluffy happy made me forget the day and I looked forward to seeing him.
Timmy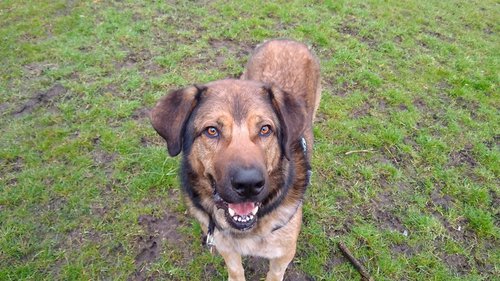 I've had a couple of walks with Timmy recently. He is a massive rescue dog that I'd met once before. He was happy just to be going out for a walk even though he didn't know me. I gave him a treat and the look in his eyes changed from indifferent to excited.
As with all my dog walks, I let the dog go where they want and stop and sniff as much as they want. Usually they stay on leads but there was a safe place to take him off the lead. He sat and waited as he really wanted to go in.
A dog of his size chasing his tail was a sight to see. The first time it caught me as surprise as I was holding his lead still. I had a good giggle.
His owner is training him to have good manners as he hadn't been taught before. Timmy has come on a long way with her. He was a pleasure to walk and run with.
Important lesson learned, don't be downwind from a dog on a windy day. Fortunately he missed me but it did make me laugh.
Fermi, Bean and Daisy-Bear
Our three cats have kept us entertained. They are all getting on better, however Fermi still is frighted of Bean. Daisy-Bear has helped Fermi come out of her shell a bit. At the same time, she has helped keep Bean busy and happy.
Fermi is still very nervous of humans but I have spent a lot of time working with her to build trust. We've definitely made progress together but we've still got a long way to go. My previous blog has talked about how she has come on.
On Saturday night, Fermi purred for the first time. OMG I was so shocked. At first I thought she was growling as it was a strange noise coming from her. Then it evolved into a purr and she did it for about 2 minutes. This was after she had walked on my legs to eat treats and she was on the back of the sofa by the warm radiator. I had to ring my husband to tell him (turns out he was in the kitchen). Now she has purred once, I am hopeful she will do it again soon.
Fermi's meows are more frequent now. Well, more frequent for her as she does about one a week. I want her to be able to freely make as much noise as she wants and demand food without being scared.
Bean needs lots of interaction. I have a selection of toys and activities that are rotated to keep him busy and interested. But he does like complete human interaction. So I have been trying to get up earlier to wear Bean out.
We've bought a couple more cat trees so that they can have their own space and got more places to play. Daisy-Bear is funny as she is small but jumps along way and appears halfway up the activity centres.
Catio
All of our cats are indoors. This is because Fermi came to us when she was 6 and had always been an indoor cat. Being so nervous, it would be dangerous for her to go out. The other two have health issues which means that they need to be indoors.
I would like them to have more space, freedom and activities. Over the last few weeks I have been researching catios. This is an outdoor space where the cats are kept safe and can't get out of. There are lots of designs and types including cat runs or a box outside the window.
The catio I want is for the cats to have access to the whole of the garden. There are lots of options for this from high fencing, roller bars at the top of the wall or netting. I am still researching this and trying to work out what would work best in our space and is the safest.
I'm not much of a gardener so I have been looking into what plants are safe for cats. This is quite difficult as I don't know what we have already. At the weekend I bought some seeds that I know are cat safe.
Day Off
At the weekend I had a complete day off from doing anything work related. Well almost… I needed to get some cat litter rather urgently so went to Pets at Home in Bromborough. While I was there, I had a look at the Range as they have an amazing selection of toys for pets. I bought quite a range (pun intended). As Bean liked the cat nip bubbles I got some more. Also got some mice, feathery toys and a hard sponge fish bone.
My husband doesn't like me to go unattended as he doesn't know if I will come back with. They had some really cute rats in the second hand section. I was tempted...
The rest of Saturday morning was spent washing out the four litter trays. Three of them I only have to wash out once a week, but one is used more frequently so I have to wash that twice a week.
The afternoon was my idea of heaven. Curled up with a book and a cat or two while sat with my daughter. My son was too busy playing Minecraft but I popped in to see him a few times.
Day Job
Due to Covid, I found an employed position which I started in November. When the most recent lockdown was announced we started working from home. This has been great as it means I have been here for the kiddies. Although they haven't needed me to help with school work, it has been nice to have lunch with them. My little one often got me a cup of tea or if a cat was on me, she would get my printing.
I have also enjoyed wearing my circus training clothes! So comfy and have stretched to fit my pandemic podge. :) Still not motivated to work out on my own. I've been trying to walk each day to finish my Land's End to John O'Groats challenge. Only 114 more miles to go.
Having the cats around has been fantastic. It has helped with Fermi as two days last week she spent sat near my head on a cat tree. This was quite a change from her hidey hole under a shelf. Every time I saw a cat, it made me smile. Also, if I got up to go to the kitchen or the bathroom, one or two cats would come running and keep me company. They are always wanting food.
Due to the day job being a front line company, I've had my first Covid jab. Hmmm I was hoping for herd immunity before I had to have a jab. I am needle phobic! However, my husband very kindly drove me there. It was a treat to leave the local area.
Wirral Whiskers
The last couple of week's I've had enquiries about bookings. People are tentatively hoping they can go away.
As expected, the bookings I had, have either been cancelled or moved. I'm still not taking deposits for bookings as there is too much uncertainty. I didn't think we would still be in this position a year after it started.
Due to the current circumstances I am focussing on cat sitting and small animal boarding. (As not able to do daytime dog walks.)
Wirral Whiskers will be 2 in May. Certainly there will be a birthday celebration!
Leaving Lockdown
I have hope for the future. I can't wait to see family/friends again and go to the gym for circus sessions. What I have missed most is having a chatter with coffee and cake.
The only downside is that I will be sad to work in an office rather than at home. There are so many benefits to working from home. We have a couple of office dogs, I wonder if they want an office cat?
Hopefully this coming year will be more hopeful and normal for everyone.
Sending best wishes and hope.
Livi xx
---
Let me know what you'd like to see in my blogs, please get in touch.